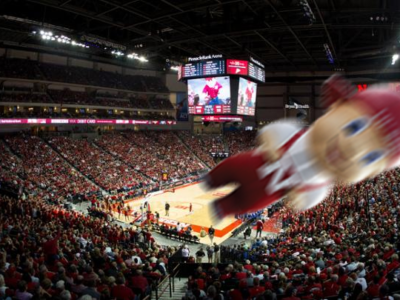 Tragedy struck the Lincoln community this week when Nebraska Cornhuskers mascot Lil' Red was involved in a freak accident at a Husker basketball game at the Pinnacle Bank Arena.
The stunt, involving one of the cannons used to launch promotional items across the arena, was not properly calibrated to project something with the exaggerated physique of the celebrated mascot, according to experts.
"It should have never been attempted," explained Dan Claes, professor of astrophysics and chair of the UNL Department of Physics and Astronomy. "The rapid cooling and expansion of the carbon dioxide develops an ideal catalyst for rapid evacuation of commonplace items of insignificant mass, such as a T-shirt or hot dog, but attempting an ill-conceived, uninformed so-called experiment on a human purportedly awry of the scientific method is aberrant and reckless."
"In addition, I am a professor of astrophysics, not classical mechanics. Perhaps do your research before requesting interviews."
Others in the arena quickly noticed that something had gone wrong, including arena staff.
"Everything turned to chaos," said Colt Johns, an employee of the arena who was working the night of the event. "It was just groans and gasps all around me. I didn't know who to call first."
First responders quickly arrived on-scene with towels and napkins in-tow.
"I saw the whole thing happen," said Aidan Smith, a 13-year-old towel boy. "I knew exactly what to do to help."
Smith, accompanied by Ross Bradbury, a season ticket holder, rushed to clean up the mess as quickly as possible, and, more importantly, check on Jennifer Myers, directly struck by the scarlet and cream-painted inflatable mass.
"There was Pepsi everywhere," Bradbury recalled. "We knew our napkins and towels weren't going to take care of all of this mess."
"We were lucky that [Pinnacle Bank Arena] staff made it to her seat so quickly," Smith added.
Myers could not be reached for comment, but was overheard saying, "it's fine, it's fine" as she rushed to the restroom.