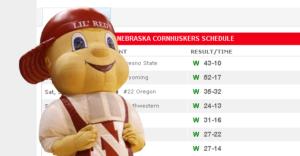 With the Nebraska Cornhuskers football team off to its best start since 2001, many fans are wondering what's the secret to team's success. Huskers head coach Mike Riley may have the answer.
"We owe it all to Lil' Red," Riley explained at a press conference this morning, referring to the team's inflatable mascot. "He's very superstitious about wearing his lucky overalls to every game, and it's no coincidence we're undefeated."
"He's a great kid," added Riley, who appears to be the only person able to communicate with the typically silent 8-foot boy.
After reviewing hours of game footage, The DailyER's researchers verified that Lil' Red was indeed wearing the same red overalls on the sidelines of each of the Huskers' seven victories this season. However, whether a connection exists between the overalls and the winning streak remains up for debate.
"Aren't those overalls, like, permanently attached to his body?" asked James Sandford, a sophomore computer engineering major at the University of Nebraska-Lincoln. "I don't think he could take them off if he wanted to."
"Yeah, I love the Huskers but I don't think this story checks out," agreed senior music education major Sarah Perkins. "Wikipedia says Lil' Red's been around since 1993, so shouldn't we have won, um, every single game since then?"
However, Alfred Dunn, an independent Husker historian living in Lincoln, had a different view of the situation.
"From the time Lil' Red was introduced in '93, up until the end of the '97 season, the Big Red won 60 games and only lost three," he explained while sitting in his Husker man cave. "Now, most people don't realize this, but at the 1994 Orange Bowl, Lil' Red wore a three-piece suit, and we lost to Florida State."
"And in 1996," Dunn continued, "He wore a turtleneck and parachute pants at two games. You guessed it — the losses to Arizona State and Texas."
The DailyER was unable to find photographic evidence to support these claims.
As far as the Huskers' post-1997 struggles are concerned, Dunn had an explanation for that as well.
"After Coach Osborne retired, Lil' Red retired the overalls too and switched to a slightly darker-red pair," he said. "True fans like me can tell the difference."
According to Dunn, Lil' Red has now dug up the original overalls from the time capsule buried beneath Tom Osborne Field and completed the multi-hour process of reattaching them to his body. The university's athletic department had no comment on the matter.
Whether or not this explanation is legitimate, Riley's announcement of the lucky garment sent shockwaves through the college football landscape. Upon hearing the news, all of ESPN's "College Gameday" analysts immediately predicted Nebraska to win the national championship.