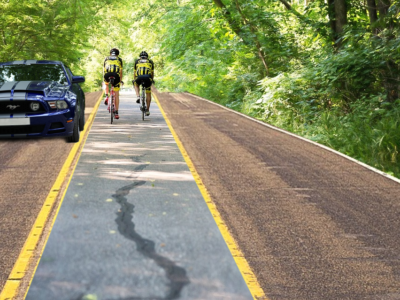 Lincoln, Nebraska, is known for its extensive network of bicycle trails, which provide cyclists an easy and fun way to traverse the city. But people who prefer driving cars may have been feeling left out — until now.
City traffic engineer Ron Canfield recently announced a $25 million project that will add car lanes to all of the city's bike trails in the coming years.
"Whether it's the calm beauty of the Rock Island Trail or the relaxing serenity of the Salt Creek Trail, Lincoln's bike trails let people get away from the hustle and bustle of city life," Canfield said. "Now, cars can have that same experience."
One car lane will be added to each side of every trail, allowing cars to travel in both directions.
The massive project will require the city to exercise eminent domain on the properties of homeowners living along the trails, cut down numerous trees and construct suspension bridges at overpasses.
"It's going to be a lot of work, but we feel this project is important to make sure our great city is just as accessible to cars as it is to bikes," Canfield said.
"Lincoln's always been a bike-friendly city, but it's time we became a car-friendly city as well," he added.
Members of Lincoln's cycling community were immediately critical of the plan, saying it would ruin one of the city's greatest resources.
"I ride my bike on the trails so I can get away from cars, and now they're going to put cars on the trails, too?" said Scott Eastman, a 42-year-old accountant. "This is ridiculous."
Critics of the project also raised concerns about the safety of adding cars to the bike trails. But Canfield assured them he had a plan.
"All drivers on these new lanes will be required to wear helmets," he said.