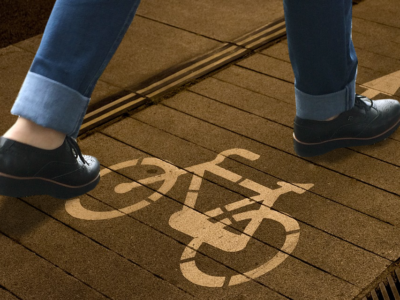 People across the United States have been divided by the wave of protests that have emerged recently, but there is little divide over one University of Nebraska-Lincoln student's stand against bikers on sidewalks.
Anna Bonbon, a super-senior biochemistry major, pioneered this newest protest when she noticed too many people get cut off by the annoying bikers who like to be 10 minutes early to every class. So she took a step, not just into the hearts and minds of students that identify with a similar misfortune, but a literal step into the bike lane to protest this wheelie-big injustice.
"I don't know why I'm so passionate about it," Bonbon said. "I guess I just really hate those people, and sooner or later, something had to be done."
Bonbon said she noticed more students have also begun to utilize these bike lanes as walking lanes.
When asked why they were walking in the street instead of the sidewalk, one protester said, "it's actually really nice to have a place to walk where there are literally no bikers. They just kinda stay on the sidewalks, and now we have this empty strip that no one ever uses."
When reached for comment, Chancellor Ronnie Green noted, "It's not even close to what those are supposed to be used for, but those kids are really damn annoying."
The UNL Police Department has spoken out against these protests as a public safety hazard, and suggested they will ticket any bike walkers they catch. However, the department's bike-mounted officers have had a difficult time doing this, considering they never leave the sidewalk.
"I do hope this movement catches on, but not too much," said Bonbon. "I don't want to have to find another new place to walk."