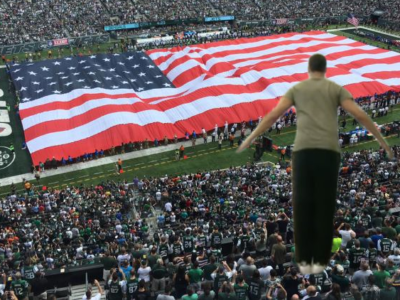 Football fans were taken aback last Sunday at the latest national anthem protest, this time by one of America's favorite celebrities: magician David Blaine. During the Falcons vs. Jets matchup at MetLife Stadium, David Blaine was spotted levitating during the national anthem, joining several players in their protest of police brutality and inequality.
"I just feel like our country is going towards a dark place," stated Blaine in an exclusive interview with The DailyER. "Magic just isn't as popular as it once was. I'm constantly getting rejected on the streets to perform magic for strangers. Some strangers have even threatened me. What kind of world do we live in where I can't even walk down the street without getting any volunteers for my street magic special?"
Blaine received praise from several players and fans. New York Jets wide receiver Jermaine Kearse praised Blaine for his peaceful protests. "I think it's amazing that he's standing up for inequality in this country," said Kearse. "Our team locked arms during the anthem to show unity. I'm glad others are joining the cause. We can no longer be oppressed in this country."
But other fans were not as welcoming to David Blaine's stunt during the national anthem. "Well ain't that just racist," said Atlanta Falcons fan Billy Van Kleet. "How in the hell he float though? Man, I can't reckon how he done did that one. But, Mr. Magic Man, we stand for the anthem in this here country. None of this kneeling or levitating bull crap. Show some respect for the United States."
Other magicians have expressed interest in joining David Blaine's protest. Illusionist David Copperfield announced he will be cutting himself in two for the national anthem protest during the Ravens vs. Titans game next week, and Mindfreak creator Criss Angel announced he will submerge himself in a tank of water for the entirety of the national anthem at the Chiefs vs. Cowboys game in Dallas.