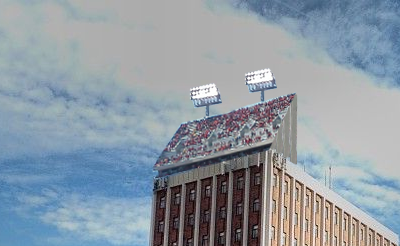 Today the University of Nebraska-Lincoln Athletic Department unveiled an exciting new development for Husker fans on a budget– opening a secondary student section top of Oldfather Hall.
Oldfather Hall is the home of the College of Arts and Sciences, the Department of History and now cheap seats for fans of college football.
Kendra Phillips, a sophomore psychology major, is one of the many students excited for the additional option of watching the game on the roof of one of the tallest buildings on campus.
"Not all of us can afford to shell out top dollar for season tickets, so I'm excited to have a more affordable option," Phillips said. "It's also cool that I can watch Husker football from the very same building that I have my Spanish 101 class in."
While many are excited at the prospect of cheaper tickets to Husker games, some are less enthused. Charlie Wilson, one of the first students to take advantage of the new seating, was disappointed in his experience during the last home game.
"The view from up there is not very good," Wilson said. "I know that the Huskers are big boys in real life, but they look like little ants from on top of Oldfather."
Wilson went on to further explain his concerns with the new seats, citing problems "inherent in the idea."
"It's clear that when it was first built, Oldfather was meant to hold classes inside," Wilson said. "I don't think they took into account having an unobstructed view into Memorial Stadium during its construction."
While opinions remain divided on the efficacy of such a seating arrangement, it's already clear that the demand is there. At press time, scalpers had reportedly begun stalking the halls of Oldfather, selling the discounted tickets at inflated rates.