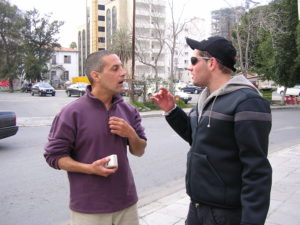 Last week, local man Kevin Herbert was reportedly trapped for hours by his coworker Todd Butler in what could only be described as the most pointless fucking story he'd ever heard in his entire life. The story, according to Herbert, shifted topics wildly and without warning, often flashing back to seemingly unrelated anecdotes.
According to Herbert, the story started off as a gripe about Butler's friend Jeremy Pohl's annoying eating habits, but then suddenly shifted to another story about the time all of them got the same dish at Olive Garden.
"At first I was trying to pay attention," Herbert said. "But it's like, what are we doing at the Olive Garden now?  I thought we were in your apartment."
Things only got worse from there, Herbert recalled, as Butler flashed back to his childhood and told a completely unrelated story about how one time he accidentally fed his neighbor's dog a Hershey bar using the allowance money he'd saved up for a month.
"At about this point I lost all hope of escape." Herbert said. "I had so many questions too, like, how do you accidentally feed a dog a chocolate bar, and how much money is he getting in allowance if he only had enough to get a Hershey bar after a month?"
None of Herbert's questions were answered. As soon as Herbert showed interest in a topic, Butler switched to an equally asinine story, like about a time he thought he saw a bumble bee but didn't.
When asked to explain what this could possibly mean, Herbert became visibly confused, obviously still trying to get over the verbal onslaught Butler put him through.
"I just don't get it." Herbert said. "At an hour and 45 minutes into a story you should at least make an attempt to wrap it up, not add extraneous details about imaginary bumble bees."
The DailyER reached out to Butler to try to find some meaning to his story. At press time, after nearly three and a half hours and no end in sight, there was no meaning to be found.