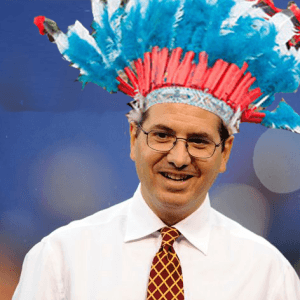 October has come to pass, leaving Washington Redskins owner Daniel Snyder in absolute and utter glee.
"Oh boy, oh golly gosh isn't this just the best time of year," Snyder exclaimed while frolicking through the kitchen of his mansion in Potomac, Maryland on his expertly crafted, Redskins embroidered moccasins.
Unfazed, we walked through his family room, sat down on his stadium seating furniture and the interview continued.  
"What about November really strikes you as 'the best time of year?'" I asked as Snyder gestured for me to become his human ottoman.
"Wowzers, where to begin," Snyder pondered while taking a hit from his peyote pipe and looking off into the distance.
"I-I guess it all started way back in my second grade history class where we learned about how our noble pilgrims took advantage of this country's native people over dinner."
"Are you talking about Thanksgiving?" I asked confused as to how in the hell someone could be excited for such a poor excuse for a holiday.  "What about Thanksgiving really does it for you? The food? The family aspect maybe?"
"Open your eyes," exclaimed Snyder as he jumped up from his burgundy stadium chair. "This glorious holiday celebrates when the white man exploited those silly natives and got away with it by offering them shallow contributions of food and 'alliance!' You know, kind of like why I donate money to native tribes while continuing to disgrace their people as a stereotype and bank millions in the process!"
Snyder went on to explain how the natives "working" for him wanted to be there and felt in no way offended or discriminated against.
"Everyone wins!"