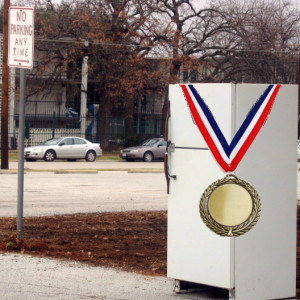 Officials were stunned last weekend when a refrigerator won the River City Marathon in Sacramento, California on Sunday. The refrigerator won the race with a time of 1:59:48, shattering the previous world record and stunning fans everywhere.
"I never thought I'd see a refrigerator win a marathon," said Joe Johnson, a spectator at the race Sunday. "What's next, we start letting gays get married? This country's going crazy!"
When asked for a comment, the refrigerator said that the marathon was "surprisingly easy."
"I've been running my whole life, so running a marathon was easy," said the refrigerator. "I'm surprised I didn't do this sooner really."
"I'm truly shocked," said Regina Smith, race coordinator for the event Sunday. "We've had all kinds of people win this race, but never a refrigerator. It's unheard of."
After the race, the refrigerator announced plans to compete in ultramarathons, and eventually a few triathlons.
"It's not like I won't be running anyway."