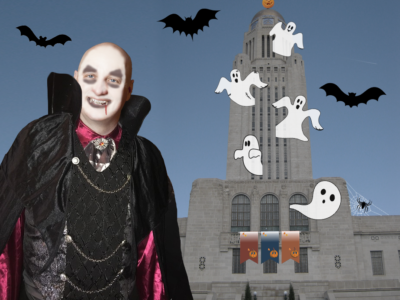 Haunted houses are all the rage during Halloween as they use scares and frights to earn big bucks over the holiday season. While everyone already knows about mainstays like Roca Scary Farms and Scary Acres, one popular building is trying to get into the festive action.
With budget concerns haunting the state of Nebraska indefinitely, politicians and lawmakers are finding new ways to limit expenses, and they think they have a plan. So for the rest of October, the State Capitol will also serve as a haunted house for the public.
Governor Pete Ricketts announced the special as a family-fun event that will serve as the ultimate benefactor to Nebraska.
"This event will boost the budget for our government to do its job while also giving costumers a ghoulish time," Ricketts explained. "Most of the time, us politicians are trying to scare you by taking away all of your basic human rights, but for this month we're changing it up."
Ricketts went on to describe the attractions at the "Spook-Capitol," none of which seemed that scary.
"The place will be covered in cobwebs, and around the building, trained interns will come out of doors and windows to scare people," Ricketts said. "State senators' offices will also be turned into concession booths."
When audience members shrieked and yelled that Ricketts' face was scarier than any haunted house they've ever seen, he seemed offended.
"Why, here I am giving the citizens of Nebraska the gift of frights and thrills and this is how you repay me, for shame," Ricketts said disappointedly. "I might as well cancel the whole thing."
The crowd didn't seem to care about anything he said, but did however agree that his face does look weird enough to belong in the "Spook-Capitol."