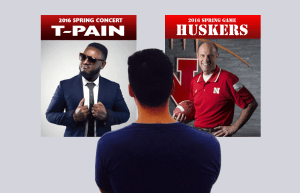 With the University of Nebraska-Lincoln's spring football game just around the corner, students had high hopes that the school would book a big-name team for the event. But many were left disappointed when UNL announced its selection: the Nebraska Cornhuskers.
"I was really hoping we'd get a good team this year, like Alabama, or at least Oklahoma," said sophomore economics major Allison Carter. "Nebraska? They haven't been relevant since, like, the nineties."
Critics of the decision were quick to point out that UNL has now booked Nebraska for the spring game 67 years in a row.
"All my friends at other schools got cool teams for their spring games," complained freshman business major Matt Garfield. "When I told them we got Nebraska, they were like, 'Who's that?'"
The backlash over the game is just the latest public relations misstep for the university. When UNL announced hip-hop artist T-Pain would be headlining the school's spring concert, the choice received a similarly lukewarm reception from students.
"First T-Pain, now the Huskers – it's like UNL is totally out of touch with my generation," Garfield said. "This is my university, and I demand better spring-related entertainment options."
However, the response was not universally negative. In fact, T-Pain himself came to the Huskers' defense, as he held a joint press conference with Nebraska head coach Mike Riley.
"Look, I know the Huskers and I have both seen better days, but we're gonna keep fighting and won't stop 'till we get to the top," T-Pain said. "And to help Mike out, I'm going to be starting at wide receiver this Saturday."
In return, Riley agreed to join T-Pain on stage at Pinnacle Bank Arena to provide backup vocals on hit songs like "Low" and "Buy U a Drank (Shawty Snappin')."