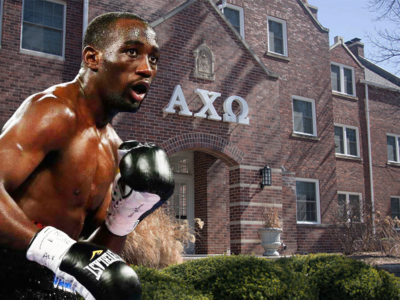 The University of Nebraska-Lincoln is about to land a huge event for the entire student body to enjoy. Omaha-native boxer Terence Crawford announced on Monday that he will be defending his light-welterweight world boxing title at sorority Alpha Chi Omega's next edition of "Fight Night."
Alpha Chi Omega's "Fight Night" first gained attention on social media after a Snapchat video was posted to the "Barstool 'Skers" Instagram account. After complying with the University's investigation, Alpha Chi Omega was given a harsh warning, but would be allowed to continue their "Fight Night" if UNL could use it as a University-sponsored event. UNL then contacted world champion Crawford for interest in the event. Crawford, who had previously announced he was moving up to the welterweight division, agreed to a rematch against Felix Diaz after watching the Snapchat video, calling it a "once in a lifetime opportunity" to fight in such a unique venue.
Reports say the night will be filled with festivities for everyone to enjoy leading up to the main event. Volunteer mascots from Valentino's, Runza, Subway and Imperial Palace Express will all compete in a boxing tournament to determine the best UNL Union restaurant. Along with this, sororities will have a tournament to determine the ultimate champion. "I just hope I don't have to fight Amanda Bangles again," said sorority sister Julie Jingles, who was seen in the video posted to social media.
UNL officials say the event will be merged with the annual spring concert in 2018. "We already have a number of artists who want to play at our mega event," said UPC president Kevin Dengles. "We're already in contact with J. Dash, Soulja Boy and Kevin Jonas to perform for us."
UPC members say that they are also in contact to set up the event for 2019, hoping to get a Mayweather vs. McGregor rematch lined up for the main event.