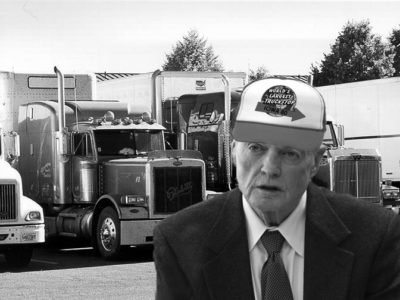 The Nebraska Cornhuskers returned victorious from Minnesota on Sunday, but discovered an embarrassing truth the next day: they were one person short.
"Yeah, apparently we left Tom [Osborne] at the World's Largest Truck Stop," head coach Bo Pelini told a distraught Mrs. Osborne. "We'll send someone back for him in a few days. He'll be fine."
Osborne, the University of Nebraska's Athletic director, often travels to away games with the coaching staff on the team bus. Student athletes seem to appreciate the AD's support, though, according to junior kicker Brett Maher, "he can get a little cranky when we run out of Arnold Palmers."
"He insisted on going four and a half hours out of our way to visit this stupid truck stop," senior defensive tackle Jared Crick said in a locker room interview Monday. "I mean, it's pretty big and sort of nice to walk around in when you've been on the road forever, but I'm not sure why one of the 200 truck stops on our actual route didn't do the trick. Still, I guess he has plenty of time to explore the place now."
Osborne has been left at rest stops on previous trips, according to internal Athletic Department documents, but the team rarely gets more than fifteen miles before his presence is missed. Team members are split as to why this case was different, but Pelini offered one explanation.
"He usually sits in the back row, sucking hard candies and shouting obscenities at passing truck drivers," he said. "But he's been really depressed since the Wisconsin game, so no one thought anything of it when we didn't hear from him. It wasn't til the next morning, when the truck stop called and said he spent all night trying to steal bags of Werther's, that we even knew he was missing."
"We finally have to get him a leash, I suppose. He won't be able to fight me on that forever."