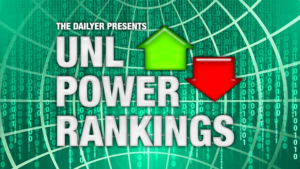 Hannah Loseke, Freshman: First freshman to go back home for Thanksgiving without any announcements that will disappoint her parents!
William Shomos, Glenn Korff School of Music professor: Starred in the hit opera, "Don Pasquale," living out his dream of taking away roles from actual students.
Bill Callahan, Offensive Line coach for the Washington Professional team, former Huskers coach: He's probably feeling a little better these days.
Lance Jimenez, Junior
Gabrielle Union, Actress: Talented, beautiful, has the number one comedy of the year in "

Girls Trip

," and the only woman that can get Dwyane Wade to wear a Huskers shirt.

Ryan Carlson, Sophomore: Quit smoking!
Henry Johnson, Junior: Took all of Ryan's unused cigarettes!
Droney McDrone, Freshman: Becomes the first drone to ever be accepted into UNL. Congrats!
Tim Miles, Nebraska Basketball coach: For like, maybe 90 seconds, people in this city were more excited for basketball than football.
UNL English Department, Department: Managed to piss off three nobody senators without even doing a single thing.
Fawaz Al Shaqsi, Junior: Proud of you, buddy! Keep up the good work!
Will Roper, Junior: Named co-captain of the Rocket League E-sports team!
Kelly Hunter, Senior Setter for Husker Volleyball: She was named regional player of the year, the Huskers are in the Sweet 16 and also none you readers knew about any of this.
Gretchen Murray, Freshman: Only person in ENG 151 to read "

My Antonia" 

front-to-back.

Tom Osborne, Former Coach: He's always feelin' great!
Lucy, Character from "Peanuts" comic strip: 60+ years later, and she still gets Charlie Brown to try and kick that football.
Bill Moos, AD: The Moos is loose!
Not ranked: Alex Gordon, Mike Riley, Megan Bird, Frank Golf, Luke Wasika, Patrick O'Brien, Suh, Tyronne Lue, Sally Beeck, Herbie Husker, Jennifer Walsh, Daniel Wendy, John Cook, Ameer Abdullah, Alexis Yenney, Madonna, Bono, Cher, Mother, Father, Aunt, Uncle, Cousin, Charlie Brown, Linus, Snoopy, Hank Bounds, Daphne Crane, Jack Palmer Gell, Pete "the Ripper" PRickettes, Kaitlyn Mullen, Joyce Manor, Turkey, Stuffing, Mashed Potatoes & Gravy, the annual Lions and Cowboys games on Thanksgiving, the Heroes game
Editor's Note: This list was compiled prior to Scott Frost's triumphant return to Lincoln.