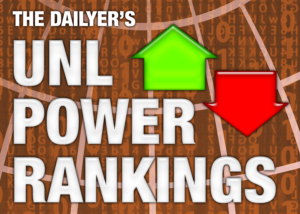 The Babadook: Evil spirit, gay icon, sophomore? Is the Babadook a manifestation of our deepest fears as a community or is he in your COMM205 class?
Jack O'Lantern: Senior. With only one semester left at UNL, Mr. O'Lantern will be the first squash in the family to graduate college.
Lauren Cobbweb: Senior
Lance Jimenez: Junior
Dave Rimington: Former Husker center, former Interim AD. "Interim AD" is a great idea for a Halloween costume.
The Spooky Spence Spencer: RSCH Technologist. Two first names? Scary.
Ameer A"Boo"llah: Detroit Lions running back.
Mitch "The Witch" Hamidi: Grad student. All witches are welcome here at UNL.
The Invisible Tre Bryant: Sophomore. Running back.
The UNL Ghost: Ghost
Ronnie Darko: Chancellor. I know we're recycling this joke. Don't @ me.
Elisabeth "Fright": Junior. Did not miss a day of class. Spooky.
Not ranked:  The alarming Alex Gordon, Cadaver O'Donald, Mike Riley, Megan Bird-Flu, Luke "The Devil" Wasika, Tanner "The Interception" Lee, Suh, Tyronn Lue, Starbucks Barista #666, Herbie Husker, Tom Bstone, Rylee Knightmare, Daniels Wendy, John Cook, Tim SMiles creepily, "Prank" Bounds, Daphne Moonlight, Jack Palmer Gell, Pete "the Ripper" PRickettes, The Creepy Kaitlyn Mullen, Frankie Cosmos, Hannibal "the Cannibal" Buress, Scary Acres, Harvey the Pearlman