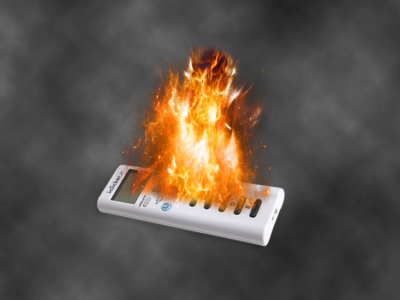 Watch out UNL students: The University of Nebraska-Lincoln has issued a total recall on its clickers, due to multiple reports of the device exploding.
The recall, issued for the new i>clicker 2 models, urges students to pack up their clickers, and send them back to the University Bookstore.
"This was a huge mistake on our part, and we apologize for any explosions that may have happened," i>clicker inventor Timothy Stelzer said.
Students will be refunded with a first-generation i>clicker, and any hospital bills that resulted from an explosion.
"We're working hard to get students in a safe position," Chancellor Ronnie Green said. "And having these time bombs in students' backpacks isn't a good idea, you know?"
At least a dozen explosions were reported at UNL this week, one involving Grace Schulman, whose clicker exploded during class.
"I was just sitting there, and my friend was like, 'Do you smell smoke?'" Schulman said. "Sure enough, I looked at my backpack, and there was a hole burnt through it."
Another student, James Robertson, said that he was using the clicker in class when it exploded in his hand.
"I was trying to answer a question, but the damn thing wouldn't register," Robertson said. "I kept pressing buttons until it exploded right then and there. Gave me this pretty cool scar, though."
The problem appears to be an interference between the batteries and the clicker itself, Stelzer said.
"From the looks of it, the AAA batteries just don't seem to be compatible with these things," he said. "You put the two together, and kaboom!"
For now, all students will be sent an "exploding-proof" box to place their clickers into before sending them to the bookstore. New models will be promised to go on sale next year.
"We'll be working hard here at i>clicker to develop a new, intuitive piece of hardware," Stelzer said. "And hopefully one that doesn't leave you horribly injured.