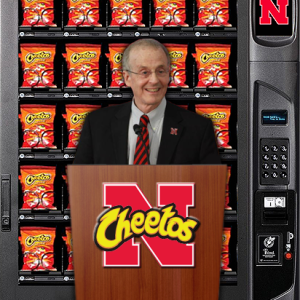 Tuesday was a triumphant day for local Cheetos fans, as the University of Nebraska-Lincoln announced a historic deal to become the nation's first "Cheetos campus."
As part of a 10-year, $12 million contract with Frito-Lay, Cheetos will become the exclusive food provider of UNL, Chancellor Harvey Perlman announced.
The campus' dining halls, vending machines and restaurants will transition to an all-Cheetos menu by the upcoming spring semester.
"Cheetos has been the food of choice among the college demographic for years, and we're proud to become the first campus to offer a fully immersive Cheetos experience," Perlman said in a statement.
Enthusiasts of the cheesy snack were thrilled, including sophomore psychology major and self-described Cheetos buff Ryan Evans.
"Cheetos already make up, like, 95 percent of my diet, so I might as well go all the way," Evans said. "Thanks, UNL."
Students who enjoy eating food other than Cheetos were less pleased.
"As a die-hard fan of non-Cheetos food, I'm not happy," said Anna Dominguez, a freshman math major. "If I knew UNL was going to become a Cheetos campus, I probably would have gone to school somewhere else."
"Some people say Cheetos are just the same as other food, but I can taste the difference," Dominguez added. "I'm going to have to keep a stash of non-Cheetos food in my dorm room, just to get by."
Responding to critics who claimed the new agreement doesn't give students enough variety in their food choices, Perlman pointed to the wide range of options available in the Cheetos brand.
"This contract allows us to offer the full spectrum of Cheetos flavors, including Original, Flamin' Hot, Cheddar Jalapeño, and Honey Barbecue," Perlman explained, "as well as a UNL exclusive, Pepsi Cheetos."
Sources told The DailyER that the contract will provide funding for athletic department expenses, including new orange uniforms, a more cheese-inspired logo and a redesigned mascot called "Herbie Cheetah."