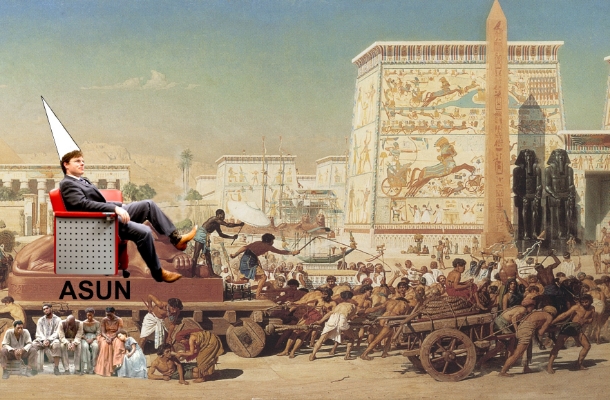 Hey there, champ. How's it going?
Only about a week-and-a-half until you get to come back home for the holidays, huh? Only couple of days of classes and some holiday shopping to do, right?
Well, there is one thing that we would like to mention to you about the shopping, sport. First off, we would like to say that we have all adored the UNL gifts from past years.
But no more of that. Please, we beg of you. For our gifts we want absolutely nothing related to the Huskers, or UNL, for that matter. At all.
Of course you've gotten away with it before. The first year that you gave us ungodly-red memorabilia for the holidays was during your senior-year of high school. You were young, and frankly a bit of a pretentious snob who wanted to announce to everyone that you planned to go to fucking Nebraska for your college. So, we endured the red sweaters.
Even during your first year at UNL, we figured that you were getting adjusted to university life and were just broke as hell to get us anything thoughtful, so we tolerated cheap jackets mass-produced by the hands of foreign labor. We foolishly thought that it'd be different later.
But so far you have sent us nearly half the Nebraska Bookstore's stock, despite our hopes. Even outside of the holidays, you sent us two koozies with Lil' Red's irritating face stamped on them and a UNL baseball cap. We gave the damn thing to some kid who lives down the street because we don't wear caps.
Seriously, though, can you not come up with anything else? Anything else not fucking red or with a big stupid 'N'? You don't have to spend a lot of money on us. But think about it. Sure, your little cousin
Jimmy's little macaroni sculpture makes us nauseous, but it's nicer than another Husker's shirt.
And if you buy one of those hats that look like giant corn cobs, we swear to God…
You are our child, and we love you. But please, we don't want another fucking Huskers shirt or anything like that.
Thank you.
Love,
Your parents