Last Monday, senior general studies major Kenna Vernon closed the last textbook she would ever need to read.
"That's it," Vernon said. "That's everything."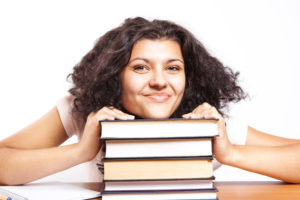 Over the course of her three and a half years at the University of Nebraska-Lincoln, Vernon developed an encyclopedic knowledge of every subject in existence. Rather than tying herself down to one department like most of her fellow students, Vernon knew she wanted more out of her education.
"I started out as an English major, since I really like reading," Vernon said. "But I became a general studies major to pursue my true passion of every single thing in the entire world."
From butterfly anatomy to carbon molecular structure, from postcolonial literary critique to World War I history, Vernon knows it all.
"It was difficult at first," Vernon said. "Most people spend their entire lives trying to master one subject, so it was pretty hard learning everything in less than four years. But, I would say it's definitely been worth it."
Vernon's field of study may be unusual, but she is just as unsure about what she plans to do after graduation as her peers.
"It's definitely weird at family gatherings when I tell older relatives my major," Vernon said. "They're always like, what are you going to do after college? I never know what to say since I know how to do literally everything. I could be a classical guitarist or I could repair skee ball machines or even open a bug hospital."
Many are surprised to learn that Vernon, in spite of learning the whole width and breadth of available human knowledge, is still set to graduate in four years.
"I had a lot of credits coming in," Vernon told The DailyER.
Though her future is still uncertain, Vernon is confident that she has made the most out of her college experience.
"It comes in handy when I'm hanging out with my friends and they have questions about proper nutrition or obscure baseball players' stats," Vernon said. "It's nice to know that I will never have to use Google ever again."