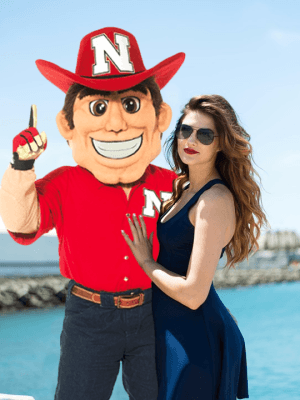 Dating is hard for everyone, even our beloved icons. We all know about the dating sites, the casual hookup apps and the televised contests that try to answer the age old question of "who can do it better?"
However, at some point it takes an effort that is a little more localized.
Lincoln country music station 98.1 KFGE, better known as Froggy 98, is running their own version of the popular TV show, "The Bachelor." Based mostly on Facebook, the radio station picks one eligible bachelor, and various contestants get the chance to go on dates with the lucky contestant.
This year, everyone's favorite mascot, Herbie Husker, is getting a little boost in his dating life.
"We had a really great time on our date," recalled Haylee Bond, one of the lucky contestants. "Herbie, despite his tough and rugged exterior, has a real sensitive side."
While Bond thought that she was the clear frontrunner, the other women had different ideas.
"Oh, I totally have a connection with Herbie after the first date," said Mia Moody, another competitor. "We definitely hit it off, and I'm ready for the next date already."
Hank Bartles, the director of the program, had nothing but good things to say about his eligible bachelor.
"Herbie is nothing short of the best bachelor we have ever had," Bartles said. "The ladies love him, and everyone in Lincoln just wants to see him fall in love."
The well-documented shortfalls of Herbie's love life have been the talk of Lincoln lately, and everyone is rooting for their favorite chiseled, broad-smiled corn farmer.
"The people of Nebraska love Herbie and want nothing but the best for him," Bartles added. "We really hit a homerun with this one."
Because Herbie Husker is a mascot and not a person, he could not comment on the matter. However, he seemed very excited about his prospects.