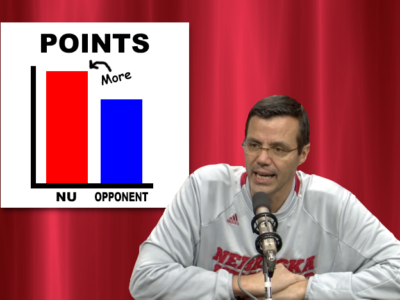 Nebraska men's basketball coach Tim Miles turned some heads in a press conference this week with the announcement of sudden, drastic changes coming to his team's gameplan this season.
Miles, who's known to place emphasis on the purely fundamental side of the game, explained a more flexible strategy he has in store for the Huskers.
"Our guys have come a long way this year. We've been breaking down game footage and looking it over," Miles said. "When it comes down to it, we're thinking the best direction for us is to score more points than the other team."
Suddenly, Miles cocked his head and spoke with a slight falsetto. "Rebound! Rebound! Rebound! Box out and watch down low!"
The coach, taken aback by his own outburst, exhaled and smiled nervously. "Well that was weird," he chuckled. "Not quite sure where that came fr-"
He interrupted himself again. "GET BACK ON DEFENSE!" he shouted into the microphone. "STAY ON YOUR GUY. WATCH FOR THE SCREEN!"
A visibly shaken Miles squirmed in his seat.
"O-okay," he muttered. "I don't know what's going on. I was trying to say that we're going to focus more on offensive producti-"
At that moment he sprang up, ferociously flipped the table and bellowed, "CLOSE THE LANE! WATCH THE SHOOTER; YOU CAN'T LEAVE HIM OPEN LIKE THAT!"
Out of breath and wide-eyed, he then glanced around. Sweat poured down his face as the room stared at him in stunned silence.
"Well," he sighed. "I guess we're going with a balanced attack this year."