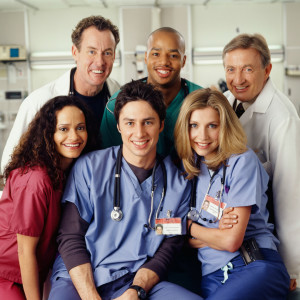 Local sources stumbled upon a hot story earlier this week when Phoenix University, a nationwide internet-based university, announced its merger with popular online shopping powerhouse Amazon.com.
Phoenix has reportedly begun offering current and incoming students the opportunity to expedite their medical degree process by providing undergraduates a printable, Phoenix-certified 'ready-to-frame' license when they purchase the complete box set of the popular 2000's sitcom 'Scrubs.'
"We were very excited to announce our partnership with Amazon. So excited, in fact, that when the idea was brought up, we immediately offered it as a promo code. And before we knew , all nineteen of our undergraduate transfers had their Bachelors!" said Charles Schultz, Dean of Undergraduate Studies at Phoenix University, and moderator of the university website.
"'Scrubs offers these kids something they won't find anywhere else but Phoenix, and we feel very honored to be the ones to bring that to them." Schultz continued.
Amazon founder and CEO Jeff Bezos was less enthusiastic about the matter.
"Amazon.com denies any affiliation with Phoenix Online University and its subsidiaries. Our programmers have been working around the clock to remove the promotional code implemented by the Phoenix faculty. This is a clear breach of Amazon code of conduct, and it will not be tolerated."
Charles Schultz, however, was not fazed by Bezos' comments.
"While the degree PDFs are being pushed through the proper channels and a reasonable shipping price is being decided, we have begun considering furthering our relationship with Amazon. Possibilities we have considered so far include Chemistry degrees with the holiday 'Breaking Bad' combo pack; or possibly an English degree when you buy two hardcovers and one paperback from the 'Classics' section."
Bezos declined further comment, instead submitting a statement drafted by his lawyer.
"Again, Amazon in no way endorses the 'ConGRADulations!' promotional discount code enacted by Phoenix Online University. We urge previous and potential shoppers to not download the printable degree PDF, and instead recommend interested parties attend a fully accredited university with some sort of campus or something."