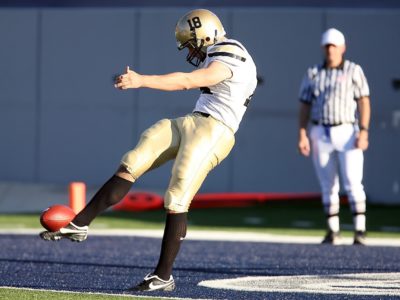 Being a professional kicker in the NFL is an important job.
You are responsible for kicking off the game, making the opposing team's offense work harder and giving your team three points at any moment's notice. It is an extremely difficult job to do.
So, for free agent kicker Alex Manson, he shares the duty of also being able to punt the football; a trait not known to many of the elite NFL kickers.
Manson has been auditioning himself to teams as a dual-threat kicker/punter; a man who can do both jobs, thus saving a roster stop for another team.
"I'm like a cheat code teams can use to beat the system. 'Will he kick? Will he punt?' You're just gonna have to wait and see."
"You could say I'm a very talented individual," Manson bragged. "I can kick from about 35-37 yards away, and punt a net average of 30."

"I'm like a cheat code teams can use to beat the system. 'Will he kick? Will he punt?' You're just gonna have to wait and see."

Versatility is a valuable attribute in any line of work. But according to many NFL scouts, Manson may be versatile but he's not very good.

"A career-long of 35 yards in minuscule in the NFL; most college kickers can convert that reliably," said Chicago Bears Special Teams Coordinator Jeff Rodgers. "We also look for punters who average around 45-50 years with good directional placement— none of which Manson has."

"There are only 32 kicking and punting jobs in the NFL," explained Tennessee Titans Special Teams coach Steve Hoffman. "It would be interesting to save a roster spot by combining the two, but unfortunately most people are either good at one or the other, and he is good at neither."

Criticisms have been hammered in Manson's face his entire career, but that will not discourage him from following his dream of being an NFL kicker/punter.

"We all have to be trailblazers at some point in our lives," Manson said. "For me, it's to be a full-time kicker and punter; for others, it's probably something less important."